7- Van Allah tot Hitler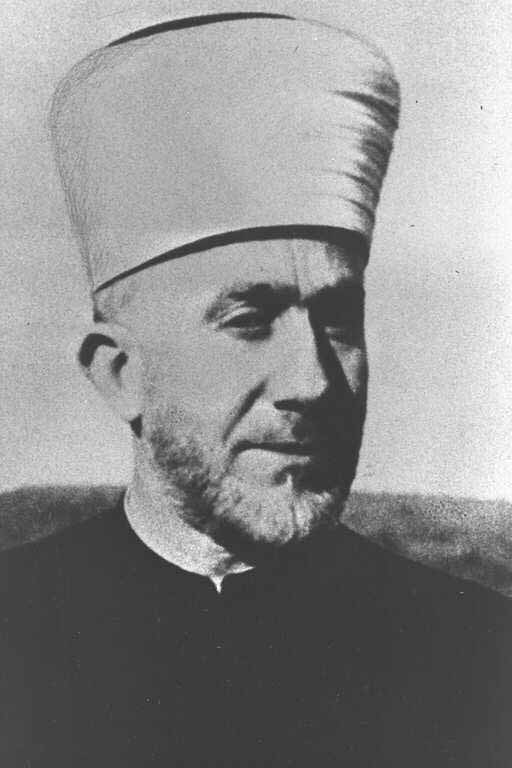 Mohammed Amin al-Husseini werd geboren in 1893 als zoon van de Mufti van Jeruzalem, lid van een hoog in aanzien en aristocratische familie. De Husseini familie was één van de rijkste en machtigste families binnen de rivaliserende clans in de Ottomaanse provincie Judea in Palestina.
Amin al-Husseini studeerde islam wetten aan de al-Azhar universiteit, en was student bij Sjeik Muhammed Rachid Rida in Cairo. Later was kreeg hij ook nog les in de Istanbul School of Administration.
In 1913 vertrok hij op pelgrimstocht naar Mekka, waar hij de eervolle titel van 'Haj' verwierf.
DE MUFTI VAN JERUZALEM

Hij ging als vrijwilliger bij het Ottomaanse pro-Duits Turkse leger tijdens WO I, maar kwam in 1917 terug naar Jeruzalem waar hij na de oorlog om opportunistische redenen de zijde koos van de overwinnende Britten.
Hij verwierf een reputatie als zijnde een gewelddadige, fanatieke antizionistische zeloot en werd aangehouden door de Britten als opruier en aanstichter van de Arabische aanval op Joden in 1920.
De eerste Palestijnse Hoge commissionair, Sir Herbert Samuel, arriveerde in Palestina op 1 juli 1920. Hij was een zwakke figuur als administrator en te snel bereid toegevingen te doen om de extremisten en de minderheid, geleid door Haj Amin al-Husseini, te bedaren.
Toen de bestaande Arabische Mufti van Jeruzalem overleed in 1921, was Samuel al zodanig door antizionistische leden binnen zijn staf beïnvloedt, dat hij al-Husseini gratie verleende en hem in januari 1922, aanstelde als nieuwe Mufti.
Hij vond zelfs de nieuwe titel van 'Groot-Mufti' uit.
In datzelfde jaar werd hij eveneens verkozen tot President van de Hoge Moslimraad.
Op die manier werd Al-Husseini de religieuze en politieke leider van de Arabieren.
Wat tot op heden zware consequenties ten gevolge heeft.

De aanstelling van de jonge al-Husseini als Mufti legde de kiemen voor een verdere ontwikkeling in het moslimfundamentalisme.
Voorafgaand aan zijn klim naar de macht, waren er actieve Arabische partijen, die een coöperatieve ontwikkeling voor Palestina met zowel Arabieren als Joden voor ogen hadden.
Maar al-Husseini wou daar niks van weten, hij was overtuigde voorstander om de Joden uit Palestina te verdrijven, zonder enige compromissen, zelfs indien het de Arabieren 1000 jaar zou achterstellen.
William Ziff schreef in zijn boek "The Rape of Palestine" volgende samenvatting:
Wat voortkwam uit de verwarring (1920) was een politieke avonturier genaamd Haj Amin al-Husseini.
Haj Amin was veroordeeld door het Britse gerecht tot vijftien jaar dwangarbeid. De politie liet hem echter ontsnappen, en hij werd een vluchteling in Syrië.
Kort daarna, lieten de Britten hem toe om naar Palestina terug te keren, ondanks de oppositie van de Moslim Hoge Raad, die hem zagen als een soort hooligan, werd Haj Amin aangeduid als Grand Mufti van Jeruzalem voor het leven. (P.22)

Al-Husseini vertegenwoordigde nieuwe opkomende ideeën voor militanten van een Palestijns Arabisch nationalisme, een concept dat tot voor kort onbekend was.
Eens hij de macht had gegrepen, begon hij een terreur- en intimidatiecampagne tegen iedereen die tegen zijn gevoerde politiek inging. Hij liet Joden vermoorden bij elke gelegenheid, maar elimineerde evengoed Arabieren die hem niet steunden in zijn geweldcampagne.
Husseini wou absoluut niet negotiëren noch enige compromissen sluiten in het belang van de vrede.
Als jonge man had al-Husseini samengewerkt met een autochtone Jood, Abbady, die het volgende commentaar weergaf:
"Onthou dit, Abbady, dit was en zal Arabisch land blijven. Wij hebben niks tegen de autochtonen van dit land, maar de vreemde invasie, de zionisten, zullen uitgeroeid worden tot de laatste man. We willen geen vooruitgang, noch voorspoed. Niets dan het zwaard zal beslissen over het lot van dit land."
In 1929 braken grote Arabische rellen uit tegen de Joden in Palestina. Die begonnen toen al-Husseini de Joden valselijk beschuldigde van ontwijding en het in gevaar brengen van lokale moskeeën, inclusief de al-Aqsa moskee. De kreet ging uit van de Arabische massa: "Itbakh al-Yahud!!" --- "Vermoord de Joden!!"

Na het bloedbad onder de Joden in Hebron, verspreidde de Mufti foto's van afgeslachte Joden en claimde dat de doden Arabieren waren, vermoord door de Joden.

Net voor de oorlog liet de Mufti, Hanzar-troepen parachuteren in Palestina om de Joodse waterbronnen in Tel Aviv te vergiftigen.
Zes prominente Arabische leiders vormden in april 1936 het Arabisch Hoger Comité, samen met de Groot-Mufti Haj Amin al-Husseini, als hoofd van deze organisatie, protesteerden ze met vereende krachten tegen de Britse steun aan de Zionistische vooruitgang in Palestina.
In diezelfde maand braken rellen uit in Jaffa, wat het begin betekende van een periode van drie jaar geweld en burgerlijke strijd in Palestina, dat beter bekent staat als de 'Arabische opstand". Het Arabisch Hoger Comité leidde de terroristische campagne tegen Joodse en Britse doelen.
Handig gebruik makend van de Arabische onrust, versterkte al-Husseini zijn controle over
de steeds groter wordende groep 'Palestijnse' Arabieren via een moordcampagne op Joden en niet-meegaande Arabieren . Tezelfdertijd rekruteerde hij gewapende milities, en kreeg hij financiële steun vanuit de moslimwereld door anti-joodse propaganda.
In 1937 drukte de Groot-Mufti zijn solidariteit uit met Duitsland, en vroeg het Nazi-Derderijk zich te verzetten tegen de oprichting van een Joodse Staat, de Joodse immigratie naar Palestina te stoppen en de Arabische bevolking van wapens te voorzien.
Als gevolg van een moordaanslag op de Britse inspecteur-generaal van de Palestijnse politiemacht en de moord door Arabische extremisten op Joden en gematigde Arabieren, werd het Arabisch Hoger Comité illegaal verklaard door de Britten.
De Groot-Mufti verloor zijn presidentschap in de Hoge Moslimraad, zijn lidmaatschap bij de 'Waqf committee' en werd gedwongen naar Syrië te vluchten in 1937. De Britten deporteerden eveneens de Arabische burgemeester van Jeruzalem samen met nog andere leden van het Arabisch Hoger Comité.
Volgens de documentatie op het Neurenberg en Eichman tribunaal, financierde nazi-Duitsland al-Hussein's inspanningen in de 1936-39 opstand in Palestina.
Adolf Eichman bezocht Palestina en ontmoette al-Husseini in die tijd en onderhield een geregeld contact met hem vanuit Berlijn.
Al-Husseini verzocht de Asmogendheden in 1940, om de Arabische rechten te herkennen:

"[…] om de kwestie van de Joodse elementen in Palestina en andere Arabische landen in overeenstemming met de nationale en raciale belangen van de Arabieren te regelen, op dezelfde wijze als deze die gebruikt worden om het Joodse probleem op te lossen in Duitsland en Italië.

Ondertussen hielp Syrië de pro-nazi opstand in 1941 en verdedigde hij de uitroeiing van Joden via een radio uitzending in het Midden-Oosten.
Hij verbleef nadien als speciale gast van Hitler in Berlijn voor de rest van de Tweede Wereldoorlog.

Toen rekruteerden ze Balkan moslims voor de beruchte SS-bergdivisies, die Joodse gemeenschappen uitroeiden in het hele gebied. In 1942 werd een "Islamitische Zentral-Institut zu Berlin e.V." opgericht, waarvan al-Husseini de beschermheer werd.

Tijdens een feestgelegenheid waarbij ook Goebbels aanwezig was, stelde al-Husseini zich voor als 'Führer' van 400 miljoen Arabieren, vijand van het Zionisme, Engelse grootmachtdromen en Bolsjewieken.


Om in de partizanenoorlog tegen Tito stand te houden, gaf Hitler toestemming op 10/2/1943 om een moslimdivisie van de 'Waffen-SS' op te richten voor de Balkan.
Daarvoor werden vooral Bosnische moslims aangeworven. Vanuit het SS-hoofdkwartier werden imams in de diverse bataljons aangenomen en de islamitische voedselvoorschriften werden toegepast.
Als er nadien ook nog een Mullah-school in Dresden werd geopend, sloten zich vele moslim personaliteiten aan voor de werving in de Balkan.
Na de militaire opleiding in Zuid-Frankrijk kregen ze de benaming "13. Waffengebirgsdivision der SS Handschar".

Om zijn autoriteit niet te verliezen bij de moslimtroepen, verbleef al-Husseini ondertussen in Kroatië. Tegen 19 april 1943 hadden zich meer dan 20.000 moslimvrijwilligers gemeld.



Eveneens in het jaar 1944 werden nog twee andere moslimtroepen binnen de Waffen-SS opgericht.
.

De "21. Waffengebirgsdivision der SS Skanderbeg" en de "23. Waffengebirgsdivision der SS Kama" dat overwegend uit Kroaten bestond.



In mei 1945, net één dag voor de overgave van nazi-Duitsland, vluchtte al-Husseini naar Zwitserland, waar hij aan de Fransen werd uitgeleverd.
Maar de Britten zagen af van een uitlevering, omdat ze hun politiek tegenover de Arabische landen niet in gevaar wilden brengen. Tijdens de Neurenberg processen mochten geen bewijsstukken die al-Husseini zouden kunnen belasten, aangebracht worden.

Op de Neurenberg-tribunalen, getuigde de rechterhand van Eichmann, Dieter Wisliceny (die later als oorlogsmisdadiger werd terecht gesteld) het volgende:

"De Mufti was één van de aanstichters van het systematisch uitroeien van Europese Joodse gemeenschappen en was een collaborateur en adviesgever van Eichmann en Himmler in de uitvoering van de plannen. (…) Hij was één van Eichmann's beste vrienden en heeft hem gedurig aangespoord de uitroeiingsplannen aan te vangen. Ik hoorde hem zeggen, vergezeld van Eichmann, dat hij incognito de gaskamers had bezocht in Auschwitz. "




Na de oorlog werd al-Husseini aangeklaagd in Joegoslavië wegens oorlogsmisdaden op Christelijke Serven, zigeuners en Joden., maar hij kon ontsnappen aan vervolging.
De Mufti werd nooit veroordeeld omdat de geallieerden bang waren voor een storm in de Arabische wereld indien zij de nationale held zouden behandelen als een crimineel.

Na de oorlog vertrok al-Husseini naar Egypte (zijn thuisland) waar hij werd ontvangen als nationale held, en later naar Libanon, waar hij met Syrische steun, de grondlegger was van de bewegingen 'Jihad' en 'Hamas'.
In 1946 ontmoet Amin al-Husseini zijn protegé en 'zogenaamde' neef, de Egyptische Yasir Arafat, (zie ook the KGB's man) wiens echte naam
Mohammed Abder Rauf Arafat Al-Kuadwa Al-Husseini
is.
De Mufti plaatst de jonge Arafat aan het hoofd van de wapenaankoop voor zijn irreguliere militie,
"De heilige strijders voor Allah"
In 1948, gedurende de strijd van Israël om de verenigde Arabische aanvallen af te slaan, zond de Mufti via radio-uitzendingen onophoudelijk volgende boodschap, "
Ik verklaar de heilige oorlog, mijn moslimbroeders! Dood de Joden! Dood ze allemaal!!"
Vanuit Egypte was al-Husseini eveneens één van de sponsors in de oorlog van 1948 tegen de nieuwe Staat Israël.
Op dit moment zijn vele Arabieren terug weggevlucht uit Israël. Niet omdat, zoals nu wordt beweerd, zij moesten vluchten voor de Israëli's, maar omdat Israël door zeven omringende Arabische landen tegelijk werd aangevallen. Zij moesten dus vluchten voor de aanvallen van hun eigen moslimbroeders.
De Mufti zorgde eveneens voor faciliteiten voor het Odessa-netwerk, dat een veilige haven verschafte in Arabische landen aan nazi-oorlogsmisdadigers.
De Odessa fondsen werden geregeld door de Zwitserse naziebankier Francois Genoud, die de opdracht had gekregen de gestolen fondsen van Joden uit Europa te beheren. Genoud zou diverse Arabische nationalistische en anti-Israëlische activiteiten financieel gesteund hebben, allemaal met geconfisqueerd Joods geld. In 1962 stichtte hij de Arabische Nationale Bank in Geneva in partnerschap met Syrië en werd directeur van de Arabische Volksbank in Algerije in 1962.

Veracht door de Jordaanse monarch, die de positie van Groot-Mufti van Jeruzalem aan iemand anders had gegeven, regelde Haj Amin al-Husseini de moord op de koning Abdullah in 1951 terwijl hij in ballingschap leefde in Egypte.

Koning Tallal volgde Abdullah op als koning van Jordanië en weigerde toestemming te geven aan Amin al-Husseini om het Jordaanse Jeruzalem binnen te komen.
Na een jaar werd koning Tallal onbekwaam verklaard, de nieuwe koning Hussein weigerde echter eveneens al-Husseini toestemming te geven om Jeruzalem binnen te komen.

Koning Hussein zag in dat de voormalige Goot-Mufti enkel problemen zou aanwakkeren en een gevaar betekende voor de vrede in de streek.

(Jordanië is een koninkrijk in het Midden-Oosten. En bestaat uit het voormalige Transjordanië, in 1950 werd een groot deel van het vroegere Britse mandaatgebied Palestina aan Jordanië toegevoegd.)

Het gehele gebied van 'Israel' en 'Jordanie' werd onder het Britse Mandaat, 'Palestina' genoemd. Het is dus wel erg opmerkelijk dat de Arabieren het oostelijke deel naast de Jordaan niet 'Palestina' noemen!"

Na Palestijnse guerrilla-activiteiten vanuit Jordanië tegen Israël, en een toenemende machtsbasis van Palestijnse fracties in Jordanië, greep het Jordaanse leger september 1970 in.

Tien bloedige dagen (zwarte september) resulteerden in het verdrijven van onder andere de Palestijnse Fatah-beweging uit Jordanië. De PLO, waarbinnen Fatah de grootste fractie was, verplaatste zijn organisatorische basis vervolgens naar Libanon. Arafat was in die tijd reeds leider van de Fatah en voorzitter van de PLO.
Vele Palestijnen hebben tot op heden een Jordaans paspoort.

Op een actuele landkaart van het Midden-Oosten, ziet men dat Israël helemaal ingeklemd ligt tussen 24 Arabische landen. De kreten over hoe 'neokoloniserend Israël' het Midden-Oosten dreigt over te nemen, klinken wel heel ongeloofwaardig en wordt vooral gebruikt door een land als Syrië dat Libanon al sedert 1967 bezet houdt. Een brutale burgeroorlog die begon als een revolutionair klassenconflict maar ontwikkelde langs etnische en religieuze tegenstellingen tussen Christenen en Moslims, de Druze en Palestijnse bevolkingsgroepen.

Jordanië vroeg Israël om ingrijpen in 1970 tijdens de zwarte septembermaand in 1970, waarbij Arafat en massa's 'Palestijnen' werden uitgewezen van uit Jordanië naar Libanon.

Koning Hussein van Jordanië heeft tijdens de Zwarte September van 1970 Israël verzocht om Syrische troepen te bombarderen.

Dat blijkt uit documenten van de Britse regering die vorig jaar na 30 jaar openbaar zijn gemaakt. De Syrische troepen steunden Palestijnse guerrillastrijders in Jordanië die in opstand waren gekomen.

Radiozenders in het Midden Oosten hadden tijdens de 2 weken durende opstand in 1970 al bericht dat Hussein, Israël om luchtsteun had gevraagd. Maar de koning, die in 1999 overleed, heeft de berichten nooit willen bevestigen of ontkennen.

Hussein had tijdens de opstand geen direct contact met Israël en de Verenigde Staten, en probeerde via de Britse ambassade om luchtsteun van Israël te vragen, zo blijkt uit notulen van een vergadering van het Britse kabinet op 21 september 1970. Israël heeft nooit aan het verzoek voldaan.

De VS hebben via andere kanalen hetzelfde verzoek ontvangen. De opstand in Jordanië volgde op een reeks vliegtuigkapingen door Palestijnse terroristen. Palestijnse guerrillastrijders die eerder onderdak hadden gekregen in Jordanië, begonnen delen van het land te bezetten. Toen het Jordaanse leger in actie kwam, kregen de Palestijnen hulp van Syrische troepen.



De Mufti zette echter het werk van de nazi's verder toen hij in 1962 president werd van de 'World Islamic Congress' waar hij pleitte voor een etnische zuivering van Joden in de Arabische landen. Landen waar vele Joodse gemeenschappen voorafgingen aan de islamitische opkomst. Daardoor blijven Judea, Samaria en Gaza op de agenda staan voor de etnische zuivering.

Haj Amin al-Husseini overleed uiteindelijk in 1974. Hij keerde nooit naar Jeruzalem terug na zijn vertrek in 1937.


Zijn plaats als leider van de radicale, nationalistische Palestijnse Arabieren werd ingenomen door zijn 'zogenaamde' neef Mohammed Abdel-Raouf Arafat As Qudwa al-Husseini, beter bekend als Yasser Arafat. Een Egyptenaar gevormd door de KGB.

Mohammed Abdel-Raouf Arafat As Qudwa al-Husseini, beter bekend als Yasser Arafat, was een Egyptenaar, geboren in Caïro op 24 augustus 1929.

Zijn vader was een succesvolle textielhandelaar, zijn moeder overleed vroeg in zijn jeugd. Hij studeerde in Caïro civiele techniek maar smokkelde tijdens die periode al wapens naar Palestina in opdracht van Mohammed Amin al-Husseini.

In 1948 verwisselde hij studieboeken voor wapens en vocht hij mee toen de nieuwe staat Israël werd aangevallen door zeven omringende Arabische landen. Het verlies van de Arabieren viel voor de toen 19-jarige Mohammed zwaar te verwerken.

Hij maakte zijn studies af en richtte twee jaar later de Fatah-beweging op.

Vanaf 1964 opereerde hij met de PLO in Jordanië en probeerde daar een Palestijnse staat binnen Jordanië te vormen.
Het omver werpen van de troon mislukte en hij werd met moorderbende verjaagd naar Libanon. Ook binnen Libanon probeerde hij een Palestijnse staat op te richten via bloedige terreuracties en werd hij in 1982 ook uit Libanon verjaagd.

Wanneer hij een speech hield voor de VN in 1988 waarin hij zich afkeert van geweld weet niemand, behalve de Amerikanen dat hij een 'rol' speelt.


De Israëlische overheid had gezworen Yasser Arafat te bannen, ze noemden hem een 'obstakel' voor de vrede. Maar de bejaarde Palestijnse leider was veel meer dan dat, hij was een carrière terrorist, en decennia lang getraind, gewapend en financieel gesteund door de Sovjet Unie en zijn satellietlanden en daarna door het steeds linkser wordende Europa.

Nadat Arafat overleed ten gevolge van aids op 11 november 2004, vreesde Israël voor terroristische acties en het losbarsten van geweld.

Enkele Europese landen kregen na zijn dood pas in de gaten dat Arafat niet deugde.

Israël was er van overtuigd dat een kans op vrede bestond na Arafat's dood.

Toen konden ze nog niet vermoeden dat Hamas op 25 januari 2006 zou verkozen worden door 78% van de 1,3 miljoen stemgerechtigde Palestijnen. Ze konden evenmin vermoeden dat Hamas en Hezbollah een raketaanval vanuit Libanon richting Israël zouden lanceren in juli 2006.

Hezbollah-logo


Arafat liet elke kans op vrede ontsnappen, en daar had hij een reden voor.

Decennia lang heeft Europa gedacht dat Arafat zo veel gezag bij de Palestijnen had, dat hij de meer radicale leiders in toom kon houden en zo een vredesregeling met Israël kon doordrukken.

Eveneens decennialang, betaalde Europa daarvoor een forse financiële bijdrage zoals vroeger de Sovjet Unie deed. Zij hoopten dat deze ontwikkelingshulp zou leiden tot een levensvatbare Palestijnse staat.

Wat ze niet zagen was dat nu net Arafat de leider van de radicale terroristen was die zichzelf rijkelijk bediende van de financiële hulp die hij al die jaren kreeg, en daardoor rijker werd dan de koningin van Nederland. De corruptie was zo omvangrijk dat Arafat en zijn bende er meer en meer belang kregen bij het uitblijven van de vrede.

Arafat, die ten onrechte door de krant De Tijd van 5 november 2004, 'de vader van de Palestijnse strijd' werd genoemd deed het Palestijnse volk heel veel kwaad.

Zijn positie begon echter te wankelen aan het einde toen ook premier Qurei zijn ontslag gaf in verband met de chaotische en wetteloze situatie in Gaza. Arafat weigerde de macht uit handen te geven en nestelde zich met zijn terroristische bende in Gaza tussen de gewone burgers van waaruit hij Israël met bommen liet bestoken.

Op de lijst van 's werelds rijkste 'koningen en despoten' in het Amerikaanse zakenblad 'Forbes' stond Arafat zijn vermogen op 300 miljoen dollar. (Koningin Beatrix beschikt 'amper' over 250 miljoen dollar) en volgens de Israëlische inlichtingendienst bezat Arafat zeker 1,3 miljard dollar.

Oud-minister Stemerdink (PvdA) van Defensie in Nederland, ontmoette Arafat in 1987 tijdens een conferentie in Moskou en zegt in Elsevier: "Na afloop van de lunch stroomde de eetzaal leeg en bleef hij nog even zitten praten.Hij sprak zeer bevlogen.
Maar met zijn boodschap kon ik geen kant op.
Arafat zei:
'Wat de Romeinen met de joden deden, dat kunnen wij ook. Dat moet u goed begrijpen.' – Volgens hem mochten enkel de joden blijven wonen die zich aan hen onderwierpen, de anderen zouden de zee worden in gedreven."





Faruq I - Egyptische koning

30. apr. 1941
Hitler bedankt de Egyptische koning Faroek I voor zijn sympathie voor nazi-Duitsland. Faroek bezorgde het OKW informatie over de Britse strijdkrachten en had voor het geval dat Duitsland zou overwinnen in Afrika het bevel gegeven om dan zo snel mogelijk Tel Aviv (in Palestina ondr Brits mandaat) te bombarderen door de Egyptische luchtmacht. De neef van Faroek, Mansur ad-Da-'ud, sluit zich in Duitsland aan bij de Waffen-SS.
Ook president Nasser en Sadat waren bewonderaars van Hitler.
(Meer informatie hierover op: http://deutscher-imperialismus.fdj.de/index.html?deutscher_imperialismus/III_1940_1941




Bekijk clip: http://www.haolam.de/index.php?site=artikeldetail&id=569